Psychotherapeutic Approaches
Counselling / Psychotherapy
Clinical Hypnotherapy
Eye Movement Desensitisation and Reprocessing (EMDR)
Julie Robson of Symmetry Therapy has worked in Private Practice since 2006.  Julie is a trained Accredited BACP Psychotherapist/Counsellor, EMDR Europe Accredited Practitioner, Senior Clinical Hypnotherapist and Clinical Supervisor.
What Happens at Our First Session?
I understand that most people are apprehensive about attended a first session or starting a piece of work together.   At your consultation session I will collect some personal details, we will start to discuss what brings you to therapy, your therapeutic needs and any goals you may have.  
Consultation sessions offer the opportunity to identify if we are a good fit to work together and also gives you the chance to ask any questions.   If we are both comfortable continuing to work together, we can discuss and agree proposed number and frequency of sessions.   
Client's returning usually require a new consultation session(s) to discuss current circumstances, along with agreeing new therapeutic aims and timescales.   
Why Client's Attend Sessions
Therapy goals are broad and wide, below are some potential benefits of therapy;
Positive changes / mindset
Greater insight and understanding about yourself and others
Reduce the symptoms associated with distressing experiences
Be listened to, understood and not judged
Reduce or eliminate fears or habits
Grow in confidence, self esteem, calmness, positive mind-set and beliefs
Move forward from feelings of being "stuck"
Increase positive thoughts and encourage healthy behaviours and habits
Improve relationships
Alleviate anxiety and low mood
Reflection and self care
"Knowing oneself comes from attending with compassionate curiousity to what is happening within" – Gabor Mate
Please take your time to browse my website, which includes lots more information on the interventions I provide.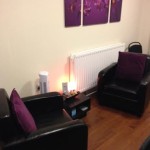 Symmetry Therapy is based at the Business Centre, 1 Blackwell Lane, Darlington, County Durham, DL3 8QF.  

I am offering remote appointments via Zoom or telephone.  (Face to face appointments are currently not recommended)
To contact me to enquire about my capacity for new client work email:   julie@symmetrytherapy.co.uk