Exams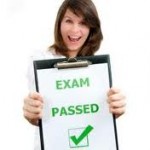 At some time or another we have all experienced uncomfortable physical feelings associated with exams (heart racing, sweats).  These very normal signs are caused by the adrenalin pumping around the body to help us to become focused and exam ready.
It is when these reactions become too intense or all-consuming when problems can occur.  You may experience panic attacks, eating or sleeping problems.   Unfortunately this can lead to avoidance of exams, lower/fail grades and disappointment.
Hypnotherapy is used to relax and calm down the mind to the acceptable, normal and supportive levels to help your mind focus and achieve improved results.  Hypnotherapy focuses the mind to success, working with images, thoughts and feelings to produce a calm, relaxed you.    The unconscious mind is shown tools and techniques to be exam confident in the lead up to the exam, on the day and during the exam.
Gain your exam confidence and show your true potential.